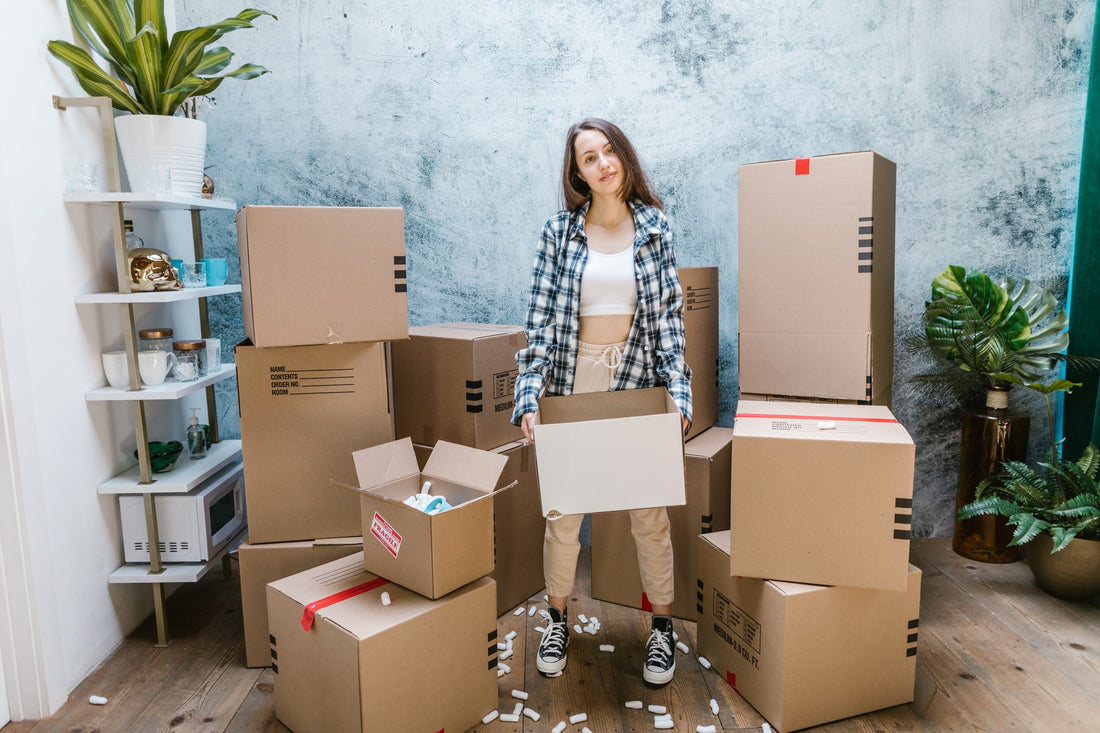 What Moving 3 Times Taught me about Self Care | Flowjo
Ever made a drastic change in your life?
There came a time in my life I needed more than a change of scenery. My partner and I agreed to leave our life behind and we did just that. We packed up everything we could fit in our two-door Jimmy, including our cat and dog, and hit the road. Marie Kondo had nothing on us. We had to get rid of a lot more than what didn't spark joy in our lives.
Move #1: The Quick Draw
When we arrived, we knew we had to stay with friends until we could find something suitable to rent. You get to know your friends on a much more intimate level when you are forced to cohabitate. I missed my own bathroom and control of the TV remote. Some months later, we found a place down the street from our friends, which was great. Only six months later, we came to find the landlord had decided to sell. There wasn't any getting around it so all we could do was start the moving process again.
Move #2: The terrible downstairs tenant
After some online searching and a few walk-throughs, we found a place that was farther away, but it was bigger and since we found out in the meantime, we were having a baby, it was a good choice for all of us. It's amazing how your decision-making and thought process changes drastically when you decide to procreate. It was much different than packing up the vehicle like a can of sardines. Now we had a baby to think about.
It's too bad when you move in somewhere you can't ask the property manager if the tenants in the basement suite are serial killers.
We rented out the top suite and the lady living in the basement was kind of a crazy cat lady. It was a year of constant stress and tension between us and the tenant downstairs. Her son was over all the time, and he was loud and liked to break the law. The time we called the police, and they had to surround the suite downstairs until he came out- well that was the last straw.
We decided again it was time to leave.
Move #3: The Meltdown
We had a small window to move out and time was not on my side. I was so sick and tired of moving! The pressure was too much while taking care of my son and everything else that comes along with trying to run a household smoothly. It was too overwhelming, and it finally took its toll on me. Little did I know it would cause a mental breakdown.
Moving is something you shouldn't have to do as often as we were. Sometimes life makes a sh** mess and you just have to clean it up. I couldn't remember the last time I had put myself first. You might not realize it until it hits you, but there can be dangers to neglecting self-care. Not only are you a basket case all the time, but you probably constantly feel fatigued, inadequate and start to blame and resent those around you. 
Taking care of yourself and putting yourself first might seem selfish to some, but it is vital to succeed in your everyday life and to be there for those who need you, especially being a mom, you have so many responsibilities, but you can't forget about yourself. Self-care doesn't have to make you feel guilty.
Small Self Care tasks you do for yourself every day.
Taking 30-minutes a day to do something you enjoy. Run yourself a bath, grab a good book, or go for a walk and clear your head.
Be aware of your triggers and learn to try and avoid them. Avoiding stressful situations can be difficult at first but start with taking time away from your phone and social media. Sometimes you need a break from all the hustle and bustle. Take some time out during the day with no technology.
Get the The Self Care Bucket List.

 

The Self Care Bucket list is a box filled with 100 ways that you can put yourself first. A great way to practise some much-needed self care.
Don't let your life pile up until you have a breakdown. There are always going to be hurdles in your life. Remember to put yourself first today and tomorrow.