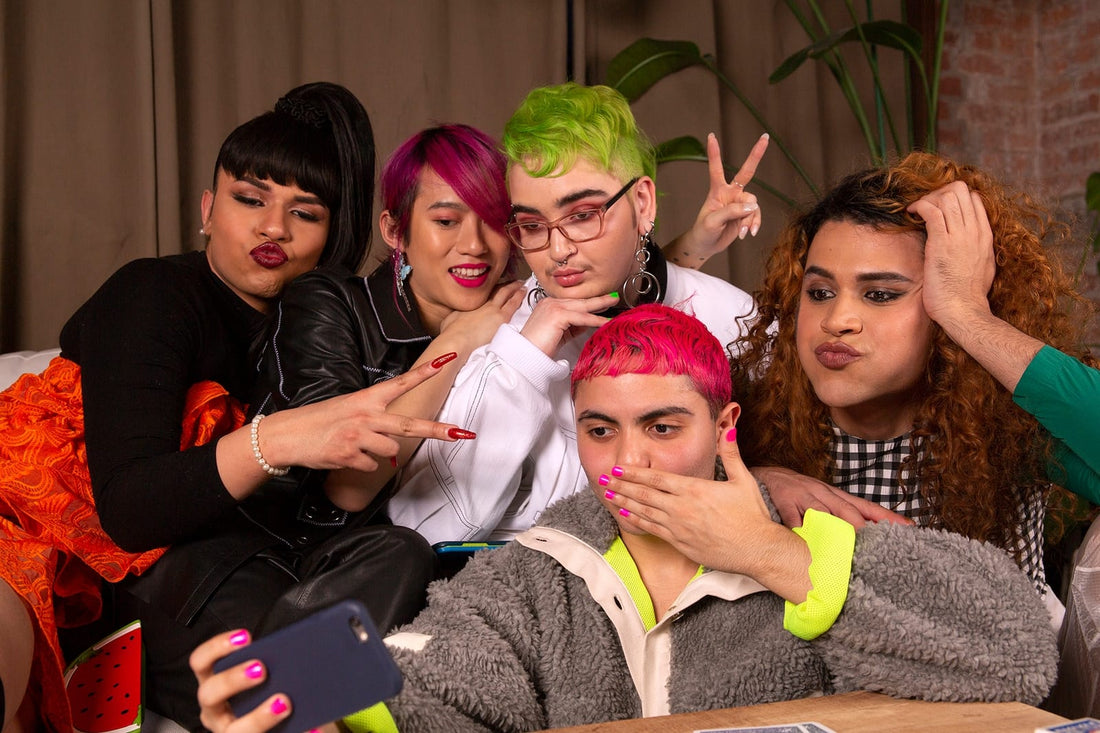 Why I dress weird and why you should too.
In February of 2020, juuuuust before a little inconvenience would disrupt the very fabric of modern day life and kill countless people, I was living in Manchester, far from my Toronto home. I was there for school and working in the arts. While there I landed an off chance audition for a student film. The role was that of an imaginary friend who had returned to their kid later in life during a crisis. It was a really charming script and I was excited to work on it, so before the audition, I prepared myself by flinging open my closet doors and thinking to myself:
"What on earth would an imaginary friend wear?"
Now I'm not really one to put work into attire under normal circumstances, I just throw on a t-shirt and jeans and walk out of my house. But this was different. This was hands down the most fun I had ever had putting on clothes. Plaid shirt with one arm rolled up, mismatched socks with different lengths, and ripped jeans. I looked like a kid had dressed me, because in my imagination they did!
So I left my tiny Salford apartment and realized the fatal flaw in my plan. I was going to have to take the bus to get there.
So with baited breath, I waited at the stop, three pounds in my hand, and watched while my fellow pedestrians took a second glance as they walked past.
Then I realized the magic of the situation I had created.
People were looking at me!
Little old me was drawing gazes for the first time in my life. And the looks weren't the scolding brutal glances I had expected from the weary northern commuters, they were merely looks of interest. 
I realized I had changed their day. Given them something to look at for a second. In just standing there I had captivated someone, anyone with my presence. Even for just a brief moment. I realized then and there that I didn't have to fit in. I didn't have to be the person people expect me to be, do what they want me to do, or dress how they want me to dress.
I was free for the first time.
Self Care Tip: Be Yourself.
Now my students, like Plato wrote about returning to the cave to sing the glories of the outside world to the prisoners, I say to you, be yourself.
Do not spare a second thought to another person's perspective of you.
Wear that jacket that clashes with the shirt.
Hum Daft Punk at the office.
Be the crazy looking person on the bus!
So long as it brings you joy, do it. There is only so much time in this world. Enjoy every second of it you can.
Right now I am doing two things to see that I am my true self and enjoying every minute of it. The first thing is what I do every morning. I dress like I dressed that fateful February day. I wear whatever the heck I want and I don't care what anyone thinks of it.
The second thing I am doing is working through the Self Care Bucket List to ensure I am feeling my best to capture every moment. The cards take me away from the mundanity of the every day and help me truly be my own best self.
Now I should add that there is a little cherry on top to end with. Taking my newfound confidence, alongside the fitting attire, I got the role!
They called me just a week later to ask me to join the project.
Unfortunately however, they called me again another week later because the entire production had to be put on hold since… You know… 2020.